Staff at Orthopaedic Specialists Louisville KY
Elizabeth "Bess"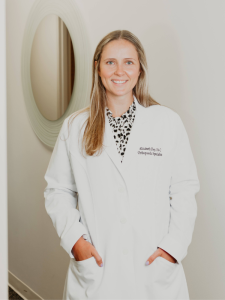 Hello! My name is Elizabeth but my friends call me "Bess." I am the PA, or Physician's Associate, here at Orthopaedic Specialists! I grew up with my parents and younger sister in Northern Kentucky before leaving home to attend Bellarmine University from 2014 – 2018 on academic and athletic scholarships. While at Bellarmine, I played Division II Tennis for 4 years and was lucky enough to make it to the NCAA tournament during one of those seasons.
Both during school and after graduating in 2018 with a Bachelor of Arts in Psychology, I took pre-requisite courses for physician assistant school. All that work paid off when I graduated from Mount Saint Joseph University in 2022 with a Masters of Science in Physician Assistant Studies. It was my love of sports and medicine that caused me to fall in love with orthopedics.
In my free time, I enjoy going on walks with my rescue dog, Scooby. I also enjoy Orange Theory Fitness, tennis, reading thrillers and gardening.
---
Tisha
My name is Tisha and I am the Practice Manager at Orthopaedic Specialists in Louisville, KY. I have been working at Orthopaedic Specialists since 2011 and previously served as Assistant Practice Manager. My background is in Human Resources, customer services, and medical transcription. It is my goal to make sure each patient feels welcome by the staff members here at Orthopaedic Specialists, and I believe we do a fantastic job of achieving that each day!
My husband and I love the summer months! For years we enjoyed Nolin Lake, however recently we have moved our boat to Cumberland, which we will call our forever lake home! We also LOVE watching UofL sports and are season ticket holders for football. GO CARDS!
I am extremely proud of my college-aged children. My daughter is attending Thomas More University, majoring in marine biology with the hopes of one day working with sharks or penguins at an aquarium possibly. My son is working nights at UPS and attending the University of Louisville with the aspirations of being a High School English teacher.
In January of 2020 my then fiancé receive a kidney transplant, we got married in July, and my father received a heart transplant in August. So, my pandemic year was very busy! OS allowed me the time I needed for all of these things and appointments, while I continued to run the practice remotely when needed. The support this "job" gives is second to none, and I am blessed to have an amazing work family and supportive leader in Dr. Grossfeld.
---
Dorothy
Hi, my name is Dorothy Cochran. I have had the pleasure of working at Orthopaeadic Specialists for many years. I am the Medical Records and Work Comp Custodian, and I also coordinate and schedule Independent Medical Exams. It is my goal to be efficient in every aspect of my job and help our patients have a wonderful experience with our office.
Outside of work, I love to spend time with my husband of over 20 years, our 4 children, and my son in law. We currently reside in Bardstown, KY where we stay busy with soccer and basketball schedules, and service in our church. Whenever possible, we love to be outdoors hiking and biking and recently have taken to kayaking and camping. Having grown up in Kansas, we love to get together to root on the Kansas City Chiefs or the KU Jayhawks.
We are extremely proud of our daughter who attends Sullivan University as an RN student; another daughter who attends Elizabethtown Community & Technical College; our son who is in the Engineering Program at Nelson County High School; our youngest son who attends Old Kentucky Home Middle School; and our son in law who is a US Army Reserves Veteran working towards air traffic control certifications.
I am extremely grateful for my Orthopaedic Specialists family and the opportunity I have to spend my days with such an amazing group of women!
---
Taylor
Hello! My name is Taylor Richardson. I am one of the X-ray techs and Medical Assistants here at Orthopaedic Specialists. I began my journey at OS in January of 2019 as a student completing a 6-month externship. After graduating in May from ATA College, I was offered and accepted a position here.
Working here at OS has been such a great experience. My coworkers are awesome and I really enjoy meeting and helping our patients.
Outside of work, I love going to Rough River with my friends and family spending time out on the water. I have a 4-year-old nephew who entertains me a lot. I am also a Louisville Cardinals fan so I attend a lot of the games and tailgates. I listen to a lot of podcasts and watch documentaries so if you know of a good one say hello and let me know, I look forward to meeting you.
---
Bailey
Have you ever wondered what it was like to sit on the back of a 12 hundred pound animal and race around barrels in an arena with hundreds of people cheering you on? Hi, my name is Bailey Belcher. I am 19 years old and I have been competing in barrel racing since I was 12 years old. During my 19 years, I have ridden horses for pleasure on many trails. My family has always been big on trail riding. Then at 12, I was Introduced to barrel racing, for several years in a row my horse, Nickel and I have won state and national championships.
This journey has led us to the world's largest rodeo in Texas. The rodeo is called the  RFD TV The American and is only attended by 250 of the best horses and riders in the world. It is a very big honor to be able to compete in this rodeo.
I started working at Orthopaedic Specialists on December 21, 2020, after graduating from ATA College on December 18, 2020. I am very fond of the family at OS! I met the staff while doing my internship for school there and never left. I am learning about all the roles and responsibilities as a MA and LMR. I am blessed to work with such a wonderful, helpful staff and team! I'm so excited for my future in this field.
---
Lindsay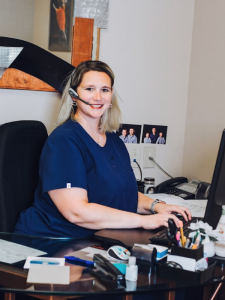 If Dr. Grossfeld has ever wanted something scheduled for you, whether it be a referral, MRI, or surgery, I was probably the one who scheduled it. My name is Lindsay Rhodus and you guessed it, I'm the scheduler here at Orthopaedic Specialists. I joined this incredible work family in December of 2006. I am thankful for such great co-workers and providers. Dr. Grossfeld and Angel not only provide exceptional care but they teach me new things each day. I love my job and pride myself on being knowledgeable, fast, and efficient to provide the best possible care for our patients.
When I'm not with my work family, I spend my time with my wonderful, chef/engineer of a husband Jason, our oldest son Brennan (18), our youngest son Zach (14), and our 9-month-old daughter Reagan. Brennan is currently working at Colton's in Bardstown and is a huge part of our growing catering business, Zach attends Thomas Nelson High school & is very active in soccer. He has been playing since he was 3 years old and we LOVE to watch him on the field. Reagan has been the perfect addition to our family. She makes us laugh and is growing so fast.
Food Obsessions Catering is our family-owned catering business that keeps us busy when we're not at the soccer field. It has grown over the past 8 years and we now average around 25 – 30 events a year. Having our boys to help out has been such a blessing and we relish having that time with them. While teaching them the value of hard work and dedication. I enjoy making the most of my time, with the people I love most in this world. If you need something scheduled, you'll be hearing from me soon!
---
Angel
Hello, my name is Angel McDowell. I have been with Orthopaedic Specialists since 2005. While I have worked in a few different positions since the beginning, I am now the insurance and billing coordinator. I also have other responsibilities in the office including ordering, authorizing, and setting up ancillary products that will be needed for post-operative care for our patients.
I attended the University of Louisville and began my medical office and insurance experience at the University of Louisville Student Health Center back in 1994. I am married with two children and have been with my husband for over 22 years. Our daughter Alexis, age 23 is a certified special needs teacher at The Carriage House Preschool, and our son Abram, age 17, is a Senior at Ballard High School. We also have 2 small dogs. In my spare time, I enjoy spending time with family, shopping, and traveling.
I have worked for Dr. Grossfeld for over 15 years and am extremely thankful and grateful for her and everything I have learned working at Orthopaedic Specialists over the years. The added bonus is that I work with a strong, compassionate, caring, and professional group of women.
---
Rhonda
Hello! My name is Rhonda King and I've been at Orthopaedic Specialists for over 21 years. Over the years, I have worked in many different areas in the office. Now I'm in the insurance/billing department. I am also in charge of Durable Medical Equipment (off the shelf bracing and custom braces).
A little background about myself.  I graduated from Indiana University Southeast with a BA in Psychology in 1998. I worked as a youth counselor for Maryhurst for a short time before coming to Orthopaedic Specialists in 1999. My husband John and I have 3 boys who are all grown. We are very excited that we are expecting our first grandson, May 3rd, 2021.
In my spare time, I enjoy traveling, taking long weekend getaways (Gatlinburg, TN), going to the movies (pre-Covid-19), Pinteresting, hiking, and rooting on the Indiana Hoosiers. I would like to get back to repurposing old furniture if I had space. I'm also that crazy cat lady! HA! HA! My husband and I donate to our local cat shelter in Jeffersonville, Indiana (Animal Protection Association) where we adopted our 3 cats. We also have 3 dogs in our home as well. Welcome to Orthopaedic Specialists!