An Overview of Closed Manipulation of the Shoulder
Orthopaedic Specialists 502-212-2663
Stacie Grossfeld, M.D. / Bess Fley, PA-C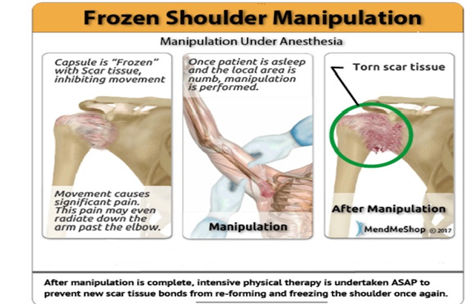 A closed manipulation of the shoulder is a quick outpatient procedure. It takes about 90 seconds to perform.
Anesthesia
Upon arrival to the surgicenter you will meet with the anesthesia doctor and get a nerve block. The nerve block will numb the shoulder for about 18 hours. When you wake up from the procedure you will have no pain at all. For the actual procedure you will get a very brief anesthesia.
Procedure
Dr. Grossfeld will move your arm through a full range of motion which will release the adhesions. She will then inject some cortisone into the shoulder joint while you are still asleep. The cortisone helps with post procedure inflammation, pain reduction and helps prevent recurrent adhesions.
You will wake up, you will have no pain because of the nerve block. Most patients can typically eat a regular meal after the procedure. The nerve block will work 16-18 hours. Once it wears off the pain is typically minimal.
Post-Procedure
After the manipulation you head over to your physical therapist after the procedure. While your arm is still numb, the physical therapist will continue to work on moving your arm and stretching the shoulder without any pain at all. Typically, once the nerve block wears off, your shoulder pain will be minimal.
Physical Therapy
You will then see the physical therapist four times the week of the manipulation, four times the following week, and then two to three times during the third week. During those sessions your PT will work to maintaining your full range of motion and work on strengthening your shoulder muscles.
Follow-Up Visit
Follow up with Dr. Grossfeld is typically 14- 21 days post procedure.
Return to Work
If you have a desk type job/ light duty you can return to work typically within 4-5 days. If you have a labor type job it could be up to 4 weeks because once the range of motion is restored, strengthening must occur.
FMLA and Disability Paperwork
Our office offers the service of completing paperwork for FMLA and/or disability for a fee of $40, per set of paperwork, and is completed in the order that it is received, typically takes 7-10 business days. All requests must originate with your employer, as your eligibility for FMLA and/or disability is based on your benefits with your employer. While each patient is unique, we do our best to estimate the time of recovery and often over-estimate the amount of time to prevent a lapse in benefits and/or require additional paperwork. Often disability companies require updates after each appointment. It is the patient's responsibility to communicate this request with the office. Updates are not automatically completed. Any questions regarding this can be directed to Dorothy.