Raised in a small town of about 1,600 people in the Canadian province of Quebec, Teena Murray is making a big influence on student athletes at the University of Louisville (U of L). As the Director of Sports Performance, Teena is in charge of the athletic performance for students involved in 21 sports programs at U of L. This includes working as the head performance specialist for the women's basketball and softball programs.
Describing her childhood days, Teena explains that she grew up playing hockey with the boys, since there weren't a lot of organized sports for girls at that time. During high school and college she enjoyed playing competitive basketball and she was also a high level softball pitcher. After completing undergraduate degrees in Kinesiology and Education, her keen interest in human athletic performance, nutrition, and exercise physiology, led her to Greensboro, North Carolina, where she earned a Master's degree in Exercise Physiology from UNC, Greensboro.
Teena has now spent more than two decades in the sports performance industry. She is a Master Coach with the Collegiate Strength & Conditioning Coaches' Association, and is also certified by numerous organizations including the National Strength and Conditioning Association, Functional Movement Systems, United States Weightlifting and Precision Nutrition.
Prior to joining U of L in 2004, she gained valuable experience working at Cornell University and the University of Connecticut. With normal work days spanning before the crack of dawn to long after dusk, Teena describes the commitment and passion she has for her job working with college student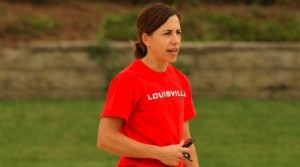 athletes. "I've had a taste of working with Olympic level athletes and athletes in pro sports, but one of the things I love about working in college athletics is the opportunity I have to watch the athletes grow and develop over a four year period. It's just amazing to see the evolution of their bodies, minds, and personalities, how they mature, and then to feel like over the course of working together, we've really prepared them for life after sports. We have the opportunity to make a major impact, and I love that."
As an adjunct faculty member in University of Louisville's Exercise Science program, Teena has focused her research and writing on performance profiling with elite athletes. The field of sports performance is continually evolving and advancing. In order to optimize athletic performance, Teena and her team use different kinds of technologies to monitor and assess the physical stress on each athlete. Teena explains: "I like working with each individual athlete, I love the variety…Our goal is to make sure that each athlete is as fresh as possible on game day so they can perform at their highest level."
Not only does this involve a carefully planned and rigorous training schedule, but nutrition is also a big focus. Teena and her team have an influence on the meals and snacks the athletes eat, both in terms of timing and nutritional content. The athletes take all of this very seriously, too, as Teena explains that it is not uncommon for her to receive text messages from players with pictures of their meals — "Is this OK to eat?" they might ask her.
Though Teena's position at the University of Louisville is extremely exciting and rewarding, she has had some other pretty incredible experiences in her career. Teena worked as the strength and conditioning coach for the U.S. Women's National and Olympic ice hockey teams between 2006 and 2010.  During this period, which Teena describes as "an opportunity of a lifetime," the teams won two World Championships and a silver medal at the 2010 Vancouver Olympics. Given this, and all that she does, it is not surprising that Teena was awarded the 2012 Guiding Woman in Sport Award by the National Association of Girls and Women in Sport (NAGWS).
While Teena explains that her days participating as a competitive athlete have passed, she still makes time to work out almost every single day. She enjoys a wide variety of activities, including trail running, hiking, mountain biking, weight-lifting and yoga. She also has a lot of fun keeping up with her two young children, ages 3 1/2 and 8.
When asked about her personal role models, Teena is quick to refer to the important influence of her family. Her uncle Bryan Murray has had an incredible career in the National Hockey League. He currently serves as the General Manager of the Ottawa Senators, having previously worked as the head coach for numerous NHL teams including the Florida Panthers and the Detroit Red Wings. Teena also mentions her parents who, she explains, taught her the meaning of hard work as self-employed business owners back in her home town.
Louisville is very lucky to be the place that Teena Murray now calls home. Her passion and commitment towards the athletes she works with is second to none…and while talking to her, you quickly realize she loves every minute of it.  Teena explains: "The schedule, the grind, I just love it. It is challenging – my phone never stops, but that's OK. I guess I just don't know anything different. I've been involved in athletics my entire life. This is the world I know."