Meet this month's patient in the spotlight, Dennis Attig!
Dennis Attig is a patient of ours that leads a rather extraordinary life! At 67 years old, Dennis works as an electrician, as he has his entire professional life. Right now, he has the opportunity to work a part-time role at a well-known airline, which allows him to continue working in his field while he and his family – Dennis is the proud father of 3 children – travel to their international dream destinations.
However, work is not the only travel that Mr. Attig has embarked on. For the last 20 or so years, Dennis has journeyed to Guatemala on mission and constructions projects. Through these trips, he had the opportunity to grow acquainted with the nation and its people, many who he now regards as family. This year, he had the additional privilege of spending his summer in Guatemala, teaching English at a school for adult missionaries.
Word of Mouth and Memory – What Led Him to Dr. Grossfeld
When Dennis began experiencing knee pain, he came to see us here at Dr. Grossfeld. Why? Simple – word of mouth travels far!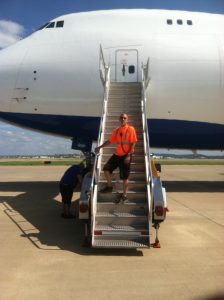 A job at an airline is one that provides ample opportunity to encounter all sorts of individuals. Mr. Attig happened to assist a passenger with a knee brace and got to talking about the passenger's injury. It was here that he received a recommendation for an orthopedic surgeon in Louisville by the name of Dr. Stacie Grossfeld. And, as fate would have it, the name would come up again with his family physician, who he saw when his knee pain began affecting his active electrical work and airline responsibilities.
Once he was recommended to Dr. Grossfeld, he was immediately started on treatments to help him regain his his sense of normality. "Thanks to the ongoing treatment provided by Dr. Stacie," Dennis says, "I have managed to steer clear of any major surgeries and have successfully regained my daily functional abilities."
Without having to take much recovery time as he might have had to with a surgical treatment, Mr. Attig was able to continue his work and do what he loved, which he remains grateful for to this day.
"I cannot emphasize enough how highly I recommend Dr. Stacie. Despite maintaining a busy practice, she consistently makes the effort to communicate with me both personally and professionally. I have referred several friends with injuries to her, and they also have nothing but the highest praise for her."
---
If you or someone you love has suffered a knee injury in the Louisville, Kentucky-area, board certified sports medicine physician Dr. Stacie Grossfeld at Orthopaedic Specialists PLLC can help. Orthopaedic Specialists PLLC is accepting new patients, and same day appointments are available. For additional information or to schedule an appointment, please contact Orthopaedic Specialists PLLC today at 502-212-2663.