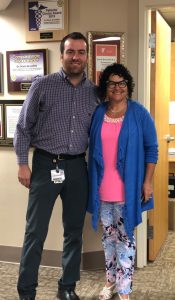 Meet our Resident of the Month Alex Carrasquer!
Alex is a saint X graduate where he was an avid tennis player. After having done oncology research at the Brown Cancer Center at U of L for 10 years, Alex wants to pursue a fellowship in sports medicine so he can branch out into physical medicine and rehabilitation for oncology patients. That is his interest.
While this may seem like an interesting combination, it is very much needed. Once a cancer patient is cancer free, it can important for them emotionally and physically to get back into fitness. For example, some cancer patients have chronic pain as a result of radiation treatments or surgery. It is Alex's goal to be able to guide these patients to a road full of recovery.
Currently, Alex is doing his residency in physical medicine and rehabilitation. There is a lot of crossover with orthopedics except that it is non-operative. Alex will also work with stroke victims and other patients who have suffered from severe injuries that require physical rehab under the guidance of a physician.
As a father of 2, Alex Carrasquer enjoys spending time with family and friends, sports and music.