Your biceps muscle turns into a thin tendon that attaches to your forearm. Rarely can the tendon tear off the bone, where it attaches in the forearm. When that happens the biceps muscle looks very flat and can migrate closer to your shoulder because the bicep muscles are no longer anchored at the end distally. The image with the blue arrow reveals how the patient for the biceps muscle has moved towards the shoulder and you can see some bruising where the tendon ruptured.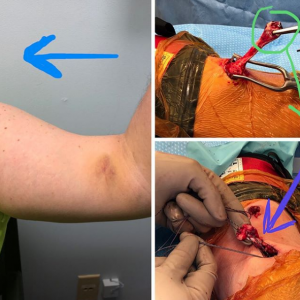 That image with the green circle and arrow is the end of the torn biceps tendon. The green arrow shows where the tendon should be attached in the forearm.
The purple arrow shows the tendon after I have placed sutures around it. I have already secured a metal suture anchor that is attached to the bone where the tendon is going to be attached. I'm now placing the sutures around the tendon and will pull the biceps tendon back into the form and attach it down to the bone in the forearm .