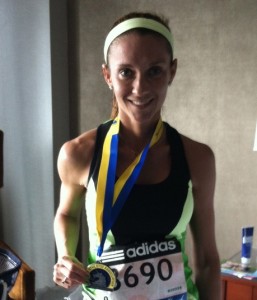 Brooke Vernon is a Louisville-based fitness and health enthusiast who inspires others through her dedication and passion. She is certified by the National Association of Sports Medicine (NASM). She also completed her TRX certification. She teaches Pure Barre classes and loves training for and running marathons. Due to all the work she does in the Louisville community to promote health and fitness, it is not surprising that she was recently asked to serve as an ambassador for lululemon athletica.
Growing up in Louisville, Kentucky, Brooke has been involved in sports for as long as she can remember. At a young age she tried many different sports, developing an early passion for cheerleading and gymnastics. After graduating from college with a nursing degree, Brooke worked full-time as a cardiac nurse for six years. And it was during this time that her interest in fitness training, running, health and nutrition really developed. Her academic training in human anatomy and physiology served as an excellent springboard for her progression towards becoming a personal trainer.
A few years ago, with two young children at home, and encouragement and support from her husband, Brooke started seriously considering pursuing her dream job – a personal trainer. She made the move to become a Certified Personal Trainer in 2012. She also began teaching Pure Barre classes during this time, and has taught at the Pure Barre Summit location since it opened.
Over the past 3 years, Brooke has learned a tremendous amount about working with clients as a personal trainer. She truly enjoys working with male and female athletes who are trying to improve their skills and overall performance. She has noticed that many athletes are not adequately strengthening their bodies for their particular sport or activity. Because of this, Brooke's main focus inside personal training is to help strengthen and educate athletes in order to minimize the risk of injury.
In addition to her work as a personal trainer, Brooke is very involved in working in the Louisville community to promote a healthy lifestyle. This past summer, Brooke received her running coach
certification and she has enjoyed working with (and even starting) a variety of fitness programs around the city. She likes working with people of all ages including young children, teenagers and adults. Right now she is having fun preparing to host a Daisy scout meeting for a local troop. There she'll share healthy snack ideas and teach a miniature workout session designed specifically for kindergarten girls.
A typical day for Brooke begins at 4:15 a.m. She wakes up to join her marathon training group for a 7 to 10 mile morning run. Following her morning run, Brooke goes home to shower and get her kids ready for school. After dropping her daughters off at school, Brooke heads to Pure Barre to teach an early morning class. From there, she goes to the Blairwood Tennis, Swim & Fitness club to train with clients. During the afternoon, Brooke enjoys spending time with her daughters, working out and having fun. She typically spends the afternoon and evening preparing for the following day which includes plenty of time planning and doing research on a wide variety of health and fitness topics… and then it starts all over again when her alarm goes off at 4:15! Her life may sound a bit rigorous for some, but Brooke explains, "I am doing all of this because I truly love it. Working as a personal trainer brings me so much happiness. I want to be able to make a big difference in people's lives…to really help my clients improve their fitness and health."
Brooke's dedication to an active lifestyle has already led her to accomplish 12 marathons. This year she'll compete in the 2015 Boston Marathon for the 6th consecutive year. Brooke and her husband were present for the Boston Bombing, fortunate to be safely away from the finish line but still very affected by the experience. Looking back, Brooke shares how this unimaginable day continues to impact her life, encouraging her to focus on what's really important, and to put the small things into perspective.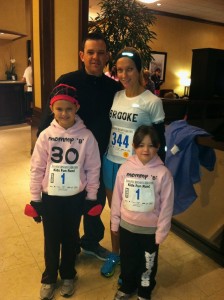 Not only does Brooke enjoy a great workout, she also shares her love of food. Brooke encourages her clients and family to make nutritious meal choices when living an active lifestyle. She recommends using the 80/20 percentage method, which means 80 percent of the day's fuel should contain good choices, with a bit of wiggle room for the last 20 percent. She does not believe in fad diets, nor does she think food choices should become an obsession. Brooke encourages everyone she works with to feed their bodies what they need to be active, strong and healthy.
Brooke is always interested in working with new clients. To schedule an appointment or to learn more about Brooke and the services she offers, visit her website: https://fitproky.com/.