The National Girls & Women in Sports Day dates back as far as 1987 and is a way of recognizing and honoring the contributions of female athletes. Thanks to the Athletic Department at the University of Louisville, Dr. Stacie Grossfeld was invited to take part in a celebration of the national holiday on Sunday January 27, of 2019  at the KFC Yum! Center.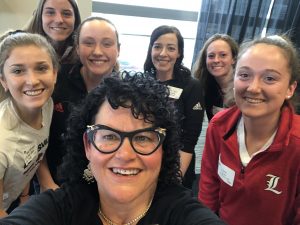 The university gathered many female business owners and mentors to participate in a round table discussion with female student athletes interested in pursuing a careers in an array of fields and specialties. Dr. Grossfeld had the pleasure of being paired with 6 pre-med students.
The students asked questions and received advice about how to study for the MCAT, what to put into their medical school application, how many hours they should be shadowing, where they should be shadowing and how to handle a medical school interview. They also learned more about what life is like as a surgeon, mom, and female in medicine, why the doctors chose a career in medicine, and more about their career pathways.
This was a great event, and unique effort to acknowledge the influence of women in sports and medicine! As always, we enjoy working with both medical residents and interns. It's encouraging to see more and more college students choosing a career path in health and science, and we are glad to mentor them in anyway possible! To learn more about how you can participate in an internship or residency with Dr. Stacie Grossfeld, just visit our website or call our office at 502-212-2663!