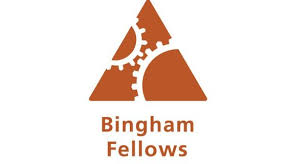 Dr. Grossfeld was privileged enough to be invited to the Bingham Fellows Program Class of 2016 graduation at Actor's Theater in the Victor Jory Theatre. Dr. Grossfeld serves on the Board of both the Louisville Sports Commission and the YMCA at Norton Commons, and the CEO and President of both organizations were a part of the 2016 graduating class. Dr. Grossfeld elaborates:
It was an enlightening experience and it exposed me to some amazing organizations in Louisville Kentucky that I did not know about. It was amazing to see both of the organizations that I work with be brought together under the same umbrella for this event.
The Bingham Fellows Program was created by the Leadership Louisville Center in 1979, and it is regarded as one of the region's most valuable resources for leadership development and civic engagement. In 2011, the Leadership Louisville Center has been recognized as one of the top seven community leadership programs in the U.S in a benchmark study by the Center for Creative Leadership.
Along with the Bingham Fellows Program, the LLC also sponsors Focus Louisville, Ignite Louisville, Leadership Louisville, and Encore Louisville.
The mission for each Bingham Fellow class is determined every year. This year's project was titled "Empower Citizens to Live Healthier Lives." The goal of the Class of 2016 Bingham fellows is to foster a culture of health and greater health equity. Louisville, unfortunately, has the distinction of being rated as 48 out of 50 of the largest metro areas in the U.S. in terms of fitness. Louisville is also ranked as the fifth unhealthiest city in America.
There were 36 people chosen this year to participate in the Bingham Fellows Program. Participants included: doctors, vice presidents of Fortune 500 companies, religious leaders and local small business owners. All of the participants in the Bingham Fellows Program had a unique background along with a different talent that they brought to the table.
Louisville 2016 Bingham Fellows Program Includes 5 Unique Groups
The Bingham fellows were broken up into 5 groups: Louisville Active, SaturPlay, Smoketown Family Wellness Center, Smoketown Laundry and Healthy Teen Break-Up Summit.
Louisville Active was created to start a culture of active lifestyles by creating new urban walking groups as well as expanding existing ones. Louisville Active will partner with the Louisville Sports Commission to broaden programming along with healthcare organizations, social service organizations and local businesses to share best practices. These ideas will all be implemented into a city-wide marketing campaign. Louisville Active will remain as an ad hoc committee of the Louisville Sports Commission. I am the current chairperson of the Louisville Active committee, and also member of the Louisville Sports Commission executive committee.
SaturPlay: building healthy bodies and strong character in kids aged 9-13 through a cooperative partnership with the YMCA, Dare to Care, Metro Parks, and the Shawnee Boys and Girls Club.  This program is run over a six week period at the Shawnee's Boys and Girls club. There is fun, physical play in a safe environment along with two servings of a healthy snack that kids help to prepare.  One snack can be eaten on site and the other snack can be taken home with them to prepare at a later time.  Dare to Care supplied a registered dietician and chef to help teach the kids about healthy eating and easy healthy snack preparation. There is also core character education that encourages kids to demonstrate caring, respect, and responsibility through teaching and fun on-the-spot recognition. The group will undergo pre and post assessment metrics to measure the program's impact. They will also create a manual to replicate SaturPlay that will be used at additional sites in 2017.
Smoketown Family Wellness Center is a new model for healthcare delivery that provides family coaching, a community advisory team, and evidence based pediatrics. The goal of a community is to support parents to raise children who are healthy in mind, body, and spirit. This group will be transforming a vacant laundromat building in Smoketown into a building that has multifunctional spaces that facilitate holistic health, community health, education opportunities, and fitness classes. The laundromat is within walking distance of the most of the neighborhood and it will allow its customers to get educated, work out, and network while washing their clothes.
The Healthy Teen Break Up Summit will be an annual meeting to educate teens on relationships of all kinds as well as the study of the disruptive effects of disrespect, chasing, social shaming, and violence. They will invite 150 teens and it will be held at Spalding University. There will be classes in conflict resolution, open forum discussions of how to prevent dating violence, and classes on how to become a helpful bystander. They will be collaborating with PACT in Action, Green Dot, and the Center for Women and Families.