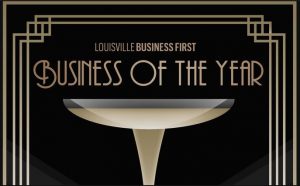 The finalists for Louisville Business First's 2017 Business of the Year Awards have been released.
This program has been recognizing Louisville-area businesses since 2005, identifying companies that demonstrate growth, innovation and excellent leadership. Businesses and organizations of varying sizes and across industries are identified in six different categories: Very Large, Large, Medium, Small, Emerging, Non-Profit.
Orthopaedic Specialists is very excited to be among the 19 companies and organizations chosen as a finalist for the 2017 Louisville Business of the Year Awards. Orthopaedic Specialists is a finalist in the Small Business of the Year category.
Identifying the finalists is a challenging process starting with nominations from Business First readers. Dozens of organizations are considered and a panel of outside judges helps to identify the final list. The judges will also identify the 2017 Business of the Year winners in each category. Winners will be announced during a gala dinner on December 5th at the Seelbach Hilton Louisville.
2016 Business of the Year Winners included Dr. O. Wayne Mortenson, Founder and CEO of Mortenson Dental Partners, for Excellence in Leadership, Delta Dental of Kentucky Inc. (Winner for the Very Large Company category), V-Soft Consulting (Large Company Winner), Argi Financial Group (Medium Company), Capture Higher Ed (Small Company Category Winner), Appelis Pharmaceuticals Inc. (Emerging Company Winner) and Kentucky Derby Museum (Nonprofit Winner).
Louisville Business First is part of American City Business Journals (www.acbj.com) and is led by Market President and Publisher Gary Tyler.