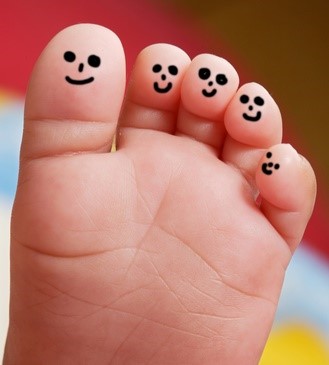 Louisville's Orthopaedic Specialists is celebrating "Be Good To Your Feet Month" to offer some relief to those suffering from foot pain. Board certified orthopedic surgeon and sports medicine physician Dr. Stacie Grossfeld is focusing on the importance of healthy feet and foot care to eliminate foot pain during the month of October.
With 26 bones in each foot, 33 joints, over 100 ligaments, and around 125,000 sweat glands, the team at Orthopaedic Specialists emphasizes that caring for your feet is an important part of health and wellness.
As an orthopedic surgeon and sports medicine doctor with a private practice in Louisville, Kentucky, Dr. Grossfeld is accustomed to seeing patients with foot pain and a wide range of foot injuries and problems. This month Orthopaedic Specialists is focused on offering educational information and preventive tips to help people treat their feet a little better. Some upcoming blog topics include: plantar fasciitis, bunions, orthotics, the best footwear, and much more.
While people of all ages suffer from some type of foot pain or injury, foot problems tend to become increasingly common as people get older.  Many seniors experience some type of foot injury or problem, and this can cause pain and disability, paired with problems with mobility and independence.
Some common foot conditions that Dr. Grossfeld sees at her Louisville orthopedic and sports medicine practice include: osteoarthritis, bunions, plantar fasciitis, blisters, toe deformities, bone fractures, heel spurs, stress fractures, and tendinitis.
While basic foot care is important to everyone, certain athletes may be prone to specific types of foot injuries and problems. For example, football players may be more likely to suffer from turf toe, while some long distance runners may be prone to plantar fasciitis and ballet dancers may be more likely to experience pain under their big toe caused by sesamoiditis.
If you are suffering from some type of foot pain that is not going away, you may need to seek help from a qualified medical provider like orthopedic surgeon Dr. Stacie Grossfeld at Orthopaedic Specialists. Want to learn how to treat your feet right so that you prevent common foot conditions and problems? Follow along with the Orthopaedic Specialists blog to stay up on all the latest for "Be Good To Your Feet Month."