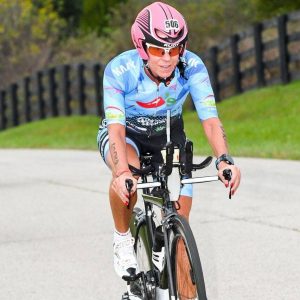 Though Della enjoyed a successful career in banking, her true passion has long been as a competitive athlete. She started her athletic career as an avid runner. After successfully completing more than 25 marathons, she decided she was ready for a new kind of challenge so she decided to try a triathlon. A triathlon can be short, medium or long distance. A short distance is called a "sprint," a medium distance is either a half Ironman or 70.3 mile distance and the long distance triathlon is an Ironman which is 140.6 mile distance.
Della completed her first sprint distance triathlon at Tom Sawyer Park in the late 90s. Following that experience, Della recalls watching the Ironman World Championship on television one day and saying to herself, "I want to do THAT!" … And this was the beginning of a journey that continues today.
This new challenge was significant on many levels. Della did not have any previous experience doing Ironman distance triathlons and she was not a particularly skilled swimmer.  There were a lot of obstacles she had to work through in order to land herself a place on the starting line of the Ironman World Championship in Kona Hawaii, which is likely the precise reason why Della found it so compelling. While most of us would see this sort of task at hand as too enormous to contemplate, Della has a completely different perspective. Instead of talking herself out of major obstacles and challenges, she gravitates towards them. For Della, it's the bigger the challenge the better.
Della Keeps Her Eyes on the Prize: The Road to Kona
Della completed her first Ironman Triathlon at Ironman Florida in 2002. Reflecting back on it she explains… "Even though it was the slowest swim of my life, I came in 12th, and that was encouraging." Soon she was looking for other triathlons to compete and working hard to fine-tune her swimming technique.
For years Della kept her focus, doing a variety of triathlons around the country, tirelessly practicing her swim technique, and improving along the way. And in 2007 in the Ironman Louisville she accomplished a major life goal – she qualified for the Ironman World Championship in Kona Hawaii. Six weeks later, there she was, 45 years old and achieving a dream. And after that initial year, she's qualified every year for Hawaii until 2015 when she was sidelined by a sports injury.
Pushing through Sports Injuries as Part of Life
When you push your body as much as Della you're going to suffer a few injuries along the way. Talking about her various sports injuries, Della chuckles: "You name it, I've had it! I've put a lot of miles on this body."
Here are just a few of the physical hurdles Della has dealt with and overcome. She's undergone hamstring reattachment surgery, various knee injuries, back problems and a broken foot, just to name a few.
Talking about her approach to injury, Della explains: "In order to be 55 years old and still competing as much and as hard as I am, you've got to have a good orthopedic doctor in your back pocket. Someone you can really trust. And I do. For me, that person is Dr. Stacie Grossfeld."
Dr. Grossfeld is one of Della's favorite doctors, in large part because of the care she puts into treating elite athletes. Della explains: "Stacie goes the extra mile for athletes. She really 'gets' me. She understands my passion and she works with me. For example, this year the Tuesday before the Louisville Ironman, I needed an injection in my knee. I had an appointment with Dr. Grossfeld and that made all the difference."
Triathlon Training at an Elite Level: The Physical
Della maintains a rigorous fitness schedule that involves a combination of biking, running and swimming throughout the week. When Della talks about her training routine, her face lights up with joy.
Though Della obviously loves a good race, she explains that she enjoys training even more than competing.  That might be in part because it is something that she frequently shares with her husband. Not only does he attend all of her competitions, but they also ride bikes together and he often accompanies her on her longer training bike rides on the weekends.
Della works closely with Coach Kevin Purcell to create a schedule designed to keep her in great shape while also helping to avoid injury. She explains, "My coach helps me listen to my body more closely. He helps me avoid overtraining. He really understands master female athletes."
Similarly, Della also spends time working as a coach for aspiring triathletes. Not only does she offer more than 25 years of endurance racing experience, but she's also an IRONMAN Certified Coach, USA Triathlon certified coach and US Cycling certified coach. She's coached people at every skill level from beginners to seasoned pros.
The Mental Edge: Being Comfortable Being Uncomfortable
Being ready for a triathlon involves a lot of things. It involves plenty of time training in each event (swimming, running and biking) and it involves good nutrition and hydration. It also requires mental toughness, which, according to Della, is something you can't really teach. Della explains, "At the end of the day, you have to be comfortable feeling uncomfortable. You really have to get used to that."
Della explains though that this discomfort is not the same thing as injury. There is a difference between being injured and hurting because you are pushing yourself outside your normal comfort zone. This is where the mental toughness really comes in, and Della is a true master of it.
Della explains: "When I line up on the starting line, I know that sometimes I am competing with athletes that are better than me on paper (not fitter but faster) but in a long event like an Ironman, I can often beat them. This is because I have the mental psychology to do it."
Della explains that sometimes successfully completing an Ironman triathlon is not about who is going to slow down because everyone is. It is about who is going to slow down the least. In an event as long and as grueling as the Ironman distance triathlon (140.6 miles)… a lot of people start to give up and some even quit.
And this is where Della is different.
She has an unusual tenacity and grit that spurs her to carry on, no matter what.She explains, "Every time I compete I know I'm going to really push my body, and I know it is going to hurt. But I'm not going to die from that." Weeks before a race, Della explains that she does a lot of personal affirmations or "self-talk" where she admits to herself outwardly that she knows she will hurt in the upcoming race, that she knows it is going to be painful and difficult, but that she'll be OK. She'll pull through and finish the race.
In all the competitions that Della has entered, she has only dropped out of one. That is because she actually passed out. It was in 2003 in Wisconsin in 97 degree weather. Della was so disappointed not to have finished the race that the next day she signed up to do it the following year. Laughing, she says, "I was going to conquer that race. It wasn't going to conquer me."
Looking Ahead to What's Next – "I can; I will!"
Goal setting is a major part of Della's strategy. For example, this year as she turned 55 she set two big goals: qualify for the Boston Marathon and qualify for the World Ironman Championships in Kona, Hawaii. She achieved both goals, competing in many other races in between including the Gulf Cost and the Louisville Ironman.
As she looks ahead, she anticipates spending a little less time competing in the Ironman distance, but she'll still race in the half Ironman distance and local races. She also looks forward to more time focused on her two adorable grandchildren. Talking about her preschool age grandson, Della's face breaks out into a huge smile: "He brings out the very best in me" she explains.
Della also plans to continue doing more with her work coaching triathletes and working with local organizations like the YMCA (she has previously served on the Board of Directors for the organization).
Regardless of what she decides to do next, one thing's for sure. If Della puts her mind to it, we know she'll accomplish it.