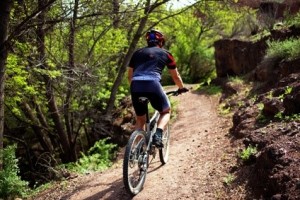 Mountain Biking and Overuse Injuries Researchers at Northern Arizona University led by Dr. Michael Lebec looked at whether there were injury differences between mountain bikers engaged in single-speed riding and those with bikes that have multiple gears.
According to the research findings, mountain bikers commonly experience overuse injuries. Just over 400 mountain bikers were surveyed in this study to report injuries sustained over the course of the prior year.
Just over three out of five respondents reported some type of overuse injury with the most common being in the lumbar/spine, knee, hands and wrists, and cervical spine. Importantly, individuals riding on a single speed bike did not have a higher overuse injury rate than those on bikes with multiple gears.
Interestingly, people who split their time mountain biking on different bikes (those that are single speed and those that have multiple gears) were statistically more likely to suffer from some type of overuse syndrome. This group of bikers may be getting injured due to fatigue, biomechanics, or other factors. Learn more here: https://www.mdpi.com/2075-4663/2/1/1