Meet this month's patient in the spotlight, Chris Schardein!
Chris Schardein and her husband, Bill, are the proud owners of 2 and 3/8 acres in Fern Creek, where they have been growing daylilies since 1996. Their flower journey dates back even further to 1989, though, when they had only a 1/2-acre lot in Hikes Point, but it has grown into something even bigger than their lot – into national recognition and a full-time adventure.
Ever since they outgrew their Hikes Point location, this Fern Creek lot has given more space to expand the collection of flowers and plants that Chris and Bill have accrued over the years. From the first daylily that Bill Schardein won with at a club meeting in 1989 to over 850 named cultivars in 20 garden settings throughout their property, the couple, even at the ages of 76 and 72, have flourished in their gardening endeavors. This came to a head in 1999, when they were approved by the regional officers to be added to the National Registry for Daylilies, where they have been registered since.
With a hobby that has turned into a year-round job, Chris says that she gets plenty of exercise just doing what she needs to in order to keep her flowers and other cultivars healthy and thriving, but that doesn't stop her and her husband from making the trip to the gym three times a week in order to complete cardio and strength exercises. During the winter, when many flowers are dormant, Chris fills her time in the greenhouse with other plants that need her time and attention as well as addressing other details of their carefully-kept garden, such as repainting decorative concrete statues that spruce up their garden beds.
A Quick Injury Turnaround 
While she counts herself luck that she hasn't had many injuries over the years of manual work in the garden, just recently this spring, Chris fell while laying down mulch on the garden beds, injuring her hand and ribs. She was able to be ushered into the office for x-rays on both afflicted areas, and a cortisone shot that she received from Orthopaedic Specialists helped with the pain and arthritis in her hands, but her ribs continued to cause her pain over the next two months of recovery.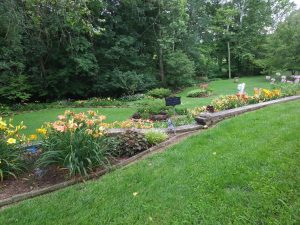 While it disrupted her sleep and kept her from doing what she needed to in the garden, as long as she did not lift too much weight, Chris was able to get a few of her tasks done without her hand pain to worry about.
"Luckily, I was far enough ahead on the mulch that it didn't set me back too much!" she wrote to us optimistically. "I'm lucky that my injury – while nothing could have been done for the ribs – did not slow me down as much as I had thought it might at first. I always like to see Dr. Grossfeld and her staff for problems like this, as they always make me feel at home and like I'm one of the family when I'm in the office. I never long waits to be in the exam room or to see the doctor, and for that, I'm very thankful!"
If you or someone you love has suffered an sports related or fall injury in the Louisville, Kentucky-area, board certified sports medicine physician Dr. Stacie Grossfeld at Orthopaedic Specialists PLLC can help. Orthopaedic Specialists PLLC is accepting new patients, and same day appointments are available. For additional information or to schedule an appointment, please contact Orthopaedic Specialists PLLC today at 502-212-2663.