As spring approaches so too does running season here in the Ville! Saturday the 23rd is the Anthem 5K Fitness Classic, followed by the Rodes City Run 10K on March 9th, the Papa Johns 10 Miler March 23rd and the Mini Marathon and Marathon run of April 27th.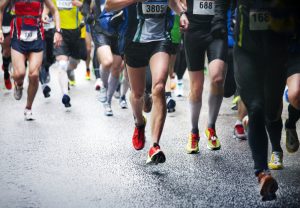 Whether you're gearing up for the Louisville Triple Crown of Running or the Kentucky Derby Festival Marathon, properly training will go a long way in helping you reach your goals and stay injury free no matter your level of ability. As Dr. Stacie Grossfeld has many years of experience treating common running injuries and helping runners continue to enjoy the sport they love, here are a few tips on preparing yourself for the long road ahead!
Make sure you have the right running shoes.
Wearing the right shoes for your foot can help prevent common running injuries such as shin splints, stress fractures and sprains. It is recommended that you are fitted with running shoes at a store that is familiar with runners so you can have a gait analysis performed.
Build up the right amount of endurance.
If preparing for a long distance run you'll need to log the appropriate amount of mileage well before race day. It is commonly encouraged that runners complete at least 1 long run a week during their training in order to build up their endurance.
Incorporate recovery days.
While discipline and dedication are positive attributes in athletic training, it's important not to over train. The number one reason for stress fractures is too much training too quickly. That being said, take 1 or 2 days off a week and if you must keep moving, consider a low impact exercise such as yoga, walking or swimming. 
Warm up, stretch, and then mix it up.
Before you do the real deal, go a light run or get on a bicycle in order to get your blood pumping. You'll know you're ready once you start to break into a sweat.
Stretching helps the body recover and should be saved for after your muscles are warm.
On your off days, mix it up with some cross-training exercises. Strength training reduces the risk of injury, so think of it as sharpening the tools in your tool box.
Log quality runs.
If you don't push yourself to run a little faster every time, it's likely you won't be able to even complete the mileage. Doing so will help you keep a better pace come race day. Just be sure to leave at least 10% in the tank. 
Listen to your body.
If you start to have aches and pains in certain areas of your body and the pain is getting worse, do not try to run through them. This is a sign that something is wrong and you should consult a medical professional. 
Hydrate and then hydrate a little more. 
Hydrating during or after a run is key, but so is hydrating before. You'll also want to make sure you're maintaining enough caloric intake to keep up with your energy expenditure. If you are doing a lot of long distance running, you may want to keep a food log to make sure that you are taking in enough calories and nutrients to keep up. The second most common reason for stress fractures is lack of proper caloric intake.
If you have any medical conditions such as hypertension or coronary artery disease, you should check with your primary care physician for medical clearance before starting a running program of any kind.
If you or a loved one are experiencing an injury due to running, make an appointment with the Orthopaedic Specialists by calling us at 502-212-2663 or using the contact form online. Dr. Stacie Grossfeld is a trained orthopedic surgeon who is double board-certified in orthopedic surgery and sports medicine.