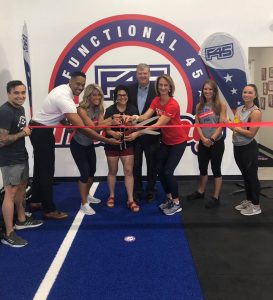 F45 Training, a functional boot-camp style training approach to fitness that originated in Australia, recently arrived in Louisville, Kentucky. Louisville orthopedic surgeon Dr. Stacie Grossfeld teamed up with personal trainers Melissa Goodlett and Kim Postema to open three F45 studios. With the F45 Middletown location opening in April, the female entrepreneurs are excited to announce the grand opening of a second F45 location in the St. Matthews neighborhood of Louisville, Kentucky!
F45 St. Matthews will be opening on Saturday, July 13th at 4600 Shelbyville Road in the same plaza as Trader Joe's, Feeder's Supply, and Nordstrom Rack (right by Murphy's Camera and the Vitamin Shoppe.) The grand opening celebration will start with two classes at 8:15 a.m. and 9:30 a.m. followed by a ribbon cutting at 10:45 a.m. with Richard Tonini, the Mayor of St. Matthews. Vendors including Zija, Perfectly Prepped, Fusion Wellness, Profile Sanford, Live Well Natural Health, and Pro Rehab will be at the grand opening along with a live DJ. Attendees will have a chance to enter giveaways and participate in a membership raffle during the celebration.
The History of F45
F45 started in Sydney, Australia in 2011. The founders of this high-intensity interval training (HIIT) program developed the unique approach that F45 utilizes as an answer for those who are interested in living a healthy lifestyle but find themselves in a rut within the normal, box gym setting. Since its start, F45 has become extremely popular around the world with thousands of locations opening across the globe. Now, high-profile celebrities like Mark Wahlberg are investing in F45 after having realized for themselves that the F45 Training approach is steeped in health benefits.
What Sets F45 Apart
F45 Training focuses on a succession-style exercise routine that combines functional training, circuit training, and high-intensity interval training (HIIT). With thousands of variations, members of F45 training facilities are able to participate in various workout classes throughout the week without repeating classes. Each of the classes uses three training styles to help members with cardiovascular endurance while burning body fat and building strong, lean muscle.
The F45 training facility opening in the St. Matthews neighborhood of Louisville, Kentucky on July 13th will be the second state-of-the-art F45 location in Louisville following the Middletown location. It features:
Workout stations that use workout equipment including balance trainers, stationary bikes, rowing machines, barbells, ropes, mats, and sandbags.
A highly trained team of certified fitness trainers who are there to lead workout classes and motivate gym members to push themselves harder throughout the workouts.
A variety of different workouts that range from the cardio-based Athletica that burns over 800 calories per session to the resistance-based Pegasus workout that focuses on building muscle mass are available through the online scheduling platform.
The F45 Training 8 Week Challenge that uses a combination of rigorous workout routines, nutritional counseling, and an online support community to help members succeed in transforming their bodies over an eight-week period.
The Women Behind F45
Dr. Stacie Grossfeld, a double board-certified sports medicine physician and orthopedic surgeon in Louisville, Kentucky, and one of several business partners bringing the F45 experience to the region is excited to open this St. Matthews location. Dr. Grossfeld is a fitness fanatic who skis, cycles, and plays competitive USTA tennis. As a doctor, she sees patients who suffer from sports injuries and is always encouraging patients to lead healthy and active lifestyles no matter their age. For this reason, she saw the opportunity to bring F45 Training to Louisville, Kentucky as a natural expansion on her day-to-day work as a physician.
Dr. Grossfeld partnered with Certified Fitness Trainers Melissa Goodlett and Kim Postema to make the dream of an F45 franchise coming to Louisville a reality. Both Melissa and Kim have dedicated their lives to living healthy lifestyles that incorporate fitness routines and they love working with, and inspiring, other people who have decided to take a step towards living a healthier lifestyle. For the two Certified Fitness Trainers, it was a no-brainer to join forces with Dr. Grossfeld and invest in the F45 franchise.
Bringing F45 to Louisville
The F45 franchise in Louisville would not have been possible without the help of Larry Benz, founder, and CEO of Confluence Health, and John Miller, a regional sales manager for Colgate, professional photographer, and self-proclaimed "fitness fanatic".
Dr. Grossfeld has said herself that her and the team "are so excited to bring this amazing scientifically-based fitness studio to St. Matthews" and that she is looking forward to seeing how the people of the neighborhood embrace "this unique approach to fitness." Anyone who lives in St. Matthews, or surrounding areas, and is interested in checking out the F45 St. Matthew experience for themselves can take advantage of a 1-week free trial.
F45 St. Matthews is the second of three F45 Training facilities that this trio will be opening in Louisville, Kentucky. The first F45 opened its doors on April 20th and is located in Middletown at 12905 Shelbyville Road. The third location to open is located in Crestwood, Kentucky and is slated to open later in July. Come down to the grand opening of F45 St. Matthews on July 13th to learn even more about the F45 Training facility, the team of Certified Fitness Trainers that lead the workouts, and see the studio.
The F45 Experience
F45 is an international fitness chain that offers a wide variety of structured workouts each which last 45 minutes to an hour and give participants a full body workout every time. F45 Training is the perfect option for those who are wanting to get into shape but aren't getting what they want from a big box gym or find themselves in a rut. There are three F45 locations slated to be open by the end of July in Louisville, Kentucky.
The first F45 location, in Middletown, opened on April 20th and is currently accepting new members. The second F45 location, in St. Matthews, will be having a grand opening celebration on July 13th. The third F45 location is slated to open in Crestwood before the end of the month. Each F45 location has its own Facebook page where the community can stay up-to-date.