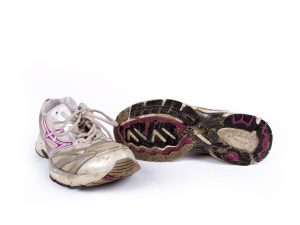 Ready to get rid of your old running sneakers, an ill-fitting sweatshirt, or a few pairs of sweatpants you never wear? Why not celebrate the season of giving and refresh your wardrobe by donating or recycling old fitness gear! The fashion industry is one of the biggest sources of pollutants, producing over 92 million tons of waste each year, so you're also helping the environment by salvaging old clothing. Here are some ways you can get rid of different types of athletic gear, easily and sustainably. 
Donate Your Running Sneakers
Runners know the importance of regularly changing out sneakers in order to reduce the risk of injury. Shoes4Soles is one organization that will take your old shoes and donate them to those in need. You can ship up to 50 lbs for free or drop them off at a designated location near you! Another organization is One World Running. Since 1986, they've been collecting old shoes, washing them, and sending them around the United States and the world. 
Don't Trash Big Equipment
Have an elliptical machine, bike, or weight rack rusting in the corner of your garage? It's too big to ship and you don't want to just throw it away, so think locally! You can quickly find people in need of what you have on apps such as Nextdoor (neighborhood app), Facebook marketplace, and Craigslist. Or, you can bring the equipment directly to drop-off organizations, such as Goodwill, Fitness 4 Charity, or Salvation army. Old fitness equipment like treadmills can have harmful fluids and materials that may harm the environment in a landfill, so it's especially important that you avoid throwing them away.
Consign Expensive Clothing
If you can't bear to just give away that expensive pair of leggings, consider consigning them. There are many local consignment stores that will pay you cash for high-quality fitness clothing. Or, you can easily sell online with Poshmark, Depop, Ebay, or Facebook marketplace. What better way to make a little money and help the environment! 
Recycle Your Rags
Have some workout clothing that's too worn-out to donate? Why not recycle it in your home! Old shirts can be cut up into rags or napkins. Those rusty tennis rackets can be repurposed into a wall-display. Here are some more delightful DIY ideas for your old fitness equipment. 

Work With Brands
Some brands, such as Patagonia, accept any of their products back for recycling. Adidas launched "Choose To Give Back" , a resale program, this year. Levi's, Vaude, Pyua, and Nike are some other notable brands that have made sustainability and recycling efforts. 
Check Out Local Drives
Local nonprofits, churches, and other charity organizations have annual drives for different types of items, such as coats, shoes, and children's clothing. Be sure to look into what's happening around you! Here's a list of places you can donate in Louisville.

If you or a loved one has sustained a sports-related injury in the Louisville, Kentucky-area, board certified sports medicine physician Dr. Stacie Grossfeld at Orthopaedic Specialists PLLC can help. Orthopaedic Specialists is currently accepting new patients, and same day/telemedicine appointments are also available. For additional information or to schedule an appointment today, call 502-212-2663.