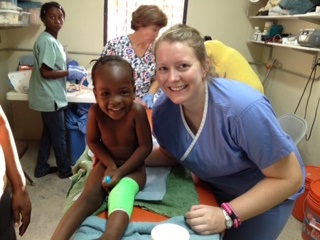 Orthopaedic Specialists is excited to introduce medical resident Tiffany Simpson M.D. Dr. Simpson is a graduate of Bellarmine University and University of Louisville's School of Medicine. She is in her second year as a medical resident specializing in Family Medicine.
With a long time interest in global health issues, Dr. Simpson heard about an opportunity to travel to Titanyen, Haiti, with Westport Baptist Church and Global Outreach International. Situated north of Port-au-Prince, Titanyen has a burn clinic where Dr. Simpson worked.
Burn injuries are common in the area, in part because most people cook their food outside over open fires. Talking about her interest in global health issues, Dr. Simpson explains:
"I've always been interested in helping people outside of our country – people who do not have access to the same resources and treatment options that we have. When the opportunity to go to Haiti came up with my church I was very excited to go. It was an eye opening experience. The level of need really surprised me."
Dr. Simpson talked about her daily schedule during her time in Haiti. She started her days working at the medical clinic from around 7 a.m. in the morning to early afternoon. After working at the clinic, she and the other volunteers spent time doing needed jobs like painting and fixing things around the campus for Global Outreach International. She was also on call during the afternoon to provide medical assistance as needed.
Talking about her time working in Titanyen, Haiti, Dr. Simpson emphasized the serious need in Haiti for medical supplies and medical treatment.  She also immediately mentioned her interest in returning to the country. Describing the inspiration she felt from the Haitian people she met, Dr. Simpson explains: "The people in Haiti are very strong. They have tremendous endurance in their ability to overcome challenges."
Dr. Simpson's willingness to use her medical training to help others is very inspiring. If you see her while you are visiting the Orthopaedic Specialists office, please say a big hello!