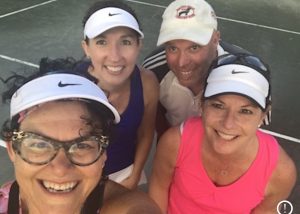 Dr Grossfeld is a sports medicine orthopedic surgeon who is an avid tennis player. She unfortunately tore a tendon in her elbow that is commonly injured in tennis players and needed to under go surgery for the condition. What makes this story unique is she actually performs the elbow injury surgery she underwent on a regular basis. She also treats a wide variety of athletes from elite juniors, pro-athletes, and weekend warriors. Does Dr. Grossfeld practice what she preaches? How was it for her to be on the other side of the table as a patient instead of as the surgeon? Did she learn any lessons through this experience?
Tell me a little bit about your passion for tennis and your injuries.
Dr. Grossfeld: I started playing tennis late in life at age 34. Prior to that I had been a competitive cyclist and cross country ski racer. So, tennis was a totally new sport for me that used an entirely different skill set. I jumped into it with both feet and started out by joining a local USTA team and competing at a 3.5 USTA level. The third year I played my team made it to the semifinals of the National USTA 3.5 tournament held in San Diego, California. The next year I got bumped up to a 4.0 level and then to a 4.5 level. At this level most of the women have played tennis in college, but I had only been playing for 5 years.
I wanted to get better, so I increased the amount of days I was playing to 4-5 times a week and started playing 5.0 gals.
As a general rule – if you are a 5.0 player you have played Division I tennis in college. The 5.0 girls can hit the ball so hard and with such speed and power, it's amazing. At this time I had been playing competitive tennis for over 15 years, but then my elbow injury occurred.
The 5.0 girls just hit the ball so hard that it was too hard for my elbow and my common extensor tendon tore. Having treated this elbow injury for over 25 years i knew exactly when I tore it during a match. I knew that it was a big and bad deal. So, I did the exact opposite of what I knew was right… I put on a really tight elbow brace and tried to finish out the season. I got to the point where when I hit the ball a little off center I thought I would cry or get sick to my stomach.
Not only could I not play tennis because of the intense pain. I was also having pain performing surgery. I decided I needed to cross the aisle, so to speak, and become a patient. It was hard. I had never been seriously injured before.
The MRI of my right elbow revealed what I suspected and a surgery was scheduled. This was not as easy as it sounds because I have a busy surgical schedule and patients were scheduled for me to do their surgery. Details were worked out and I was put on the OR schedule.
My goals was to be back on the tennis court in 3 months.
After 2 weeks, my incision had healed and I started performing surgeries again while trying to avoid any forceful use of my arm. Well that situation did not turn out so well. In the middle of a rotator cuff repair I felt my tendon re-tear. The follow-up MRI revealed that the second tendon tear was much worse than the first.
A revision surgery was scheduled and this time I planned on being out of the operating room for 2 months. The next two months I followed my personal professional post operative instructions to the T. Going to PT twice a week as well as wearing my elbow and wrist brace.
What was kind of humorous was I had just performed this exact same surgery on one of my patients a week before my surgery. When I saw her in the office, we chatted about the elbow injury recovery process together. Not sure how many times that happens to a surgeon!
After 2 months I started back in the operating room and was super careful about everything knowing this was the last chance I had to get my common extensor tendon to heal.
I was in the gym/YMCA on a spin bike six days a week while recovering. Riding was easy on the elbow, and a great way to maintain my cardio fitness. It also helped to improve blood flow to the elbow and promote healing in my elbow injury. I also started back to a low weight and high rep lifting program. The lifting program was focused around strengthening all the muscles in the shoulder and core to protect the elbow. This is something I have been telling my patients for years on a daily basis.
For me, goal number one was to get back to doing surgery pain free. Goal number two was to be able to perform my normal activities of daily living pain free. Tennis was not a priority
Everything was going well and about 6 months later I returned to my first tennis clinic with a group of players that were a couple levels lower than my previously held level. The thought was that they would hit the ball with less force and it would allow me to ease back into the sport . Almost immediately I started having a new weird pain in my wrist.
I did a self examination of my painful wrist, a series of X-rays and a wrist MRI. Good grief I headed back on the operating room schedule to fix a torn wrist ligament (TFCC) and have my ulna bone shortened. During surgery a stainless steel plate and 8 screws were placed in my forearm .
That surgery went fine and recovery was great. I followed the same advice that I give my patients after surgery and I did fine.
After a year later and lots of weight lifting, tons of cardio, and zero pain I picked up my tennis racket while cleaning out a closet. Dang that racket felt good in my hand! It was like I was shaking hands with a long lost friend. And then a thought crept into my mind …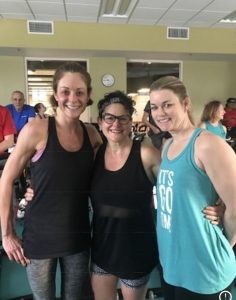 Maybe if I just started playing on softer surfaces, such as clay, in a non-competitive situation and strictly doubles then I may be able to play tennis again for fun. I thought this would work and it did! I started to play one day a week, with easy practice, no lessons, no pressure, for fun and waited to see how my elbow injury would do. It did fine.
I then slowly bumped playing up to twice a week, every other week, and didn't play during the winter months with the same results!
After two years post surgery for my elbow injury I decided to play competitively as a doubles player in an outdoor summer league that wasn't as competitive as the USTA league. That went well for two seasons. I was in the "super chill" tennis program. Doubles on clay, playing only 6 months of the year and only playing twice a week max with lots of time in the gym for cardio/ strength. This routine was helping me to avoid further tennis injuries to my elbow or wrist.
Then an interesting thing happened at the end of this summer's doubles league.
I ended up playing a doubles match against a gal and her mom. The daughter had played D-1 college and then played on the satellite circuit with pro players. This gal was amazing to say the least . During the match I was able to trade ground strokes with her, we would get into some rally's with hard hitting ground strokes and my elbow wouldn't hurt. I was hitting forehands and backhands with this really good player with no pain and hitting like I had done before my injury.
It was at this time that the thought crept back into my mind that I might be able to play singles again at the same level I had played prior to being injured.
I started working out with my prior 4.5 USTA team. But with a total different mind set. No solo lessons, only hit once a week and keep cross training. Last week I stepped onto the court and played my first 4.5 singles USTA match in almost 3 years. I had a blast and winning was just icing on the cake.
What advice can you give your patients from your elbow injury experience?
Dr. Grossfeld: Its important to listen to your doctor and ask lots of questions. My arm wasn't going to be the same, but I had to figure out a way to return to tennis. I decided to get there by working around my elbow. Your surgeon understands your injury better than anyone especially if there is surgery involved. They understand the quality of the tissue being repaired which is really important and plays a role in how fast a recovery can occur if a full recovery can occur.
Does being a patient make you a better doctor?
Dr. Grossfeld: I think most doctors are compassionate which is the reason we became doctors and empathy is so important as a physician. Being in the shoes as a patient reinforces what I do as a doctor. The experience also confirmed how important the whole healing process is from start to finish.
Why is rehab so important?
Dr. Grossfeld: It is critical to make sure the range of motion and strength is restored to the area that has been injured. Some people can do this without the guidance of a physical therapist and some people /surgeries require a PT to help with recovery. I also talk to my patients about the team approach; the surgeon, the patient and PT . We are all a team to get them better and we get have our special role that is critical.
What was the most important part of your return to play after an elbow injury?
Dr. Grossfeld: Understanding what my limitations are and being realistic about them.
Dr. Grossfeld has over 10 years of experience as an orthopedic surgeon and experience as a patient, as well. If you have injured your elbow, wrist, or shoulder while playing sports or in some other way, contact her today. Call 502-212-2663 to make an appointment with an orthopedic surgeon who has been voted as  one of the Top Ten Orthopedic Doctors in Louisville, KY and has received a Patient's Choice Award as a top rated doctor from https://www.vitals.com/.