Jenci Hawthorne is a second-year medical student at the University of Louisville.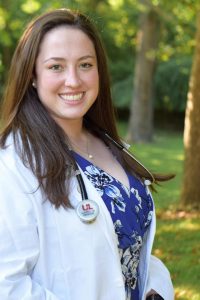 "I chose to go into medicine because I want to be there to help people who are tackling difficult things because of their health."
Recently she has had to tackle a problem with her own knee. As a swimmer, she frequently experienced her knee popping out. One day after a test at school, it wouldn't pop back in. After attending physical therapy for a month with Julie Snowden and having difficulty walking, she was referred to Dr. Stacie Grossfeld.
A latereal meniscal repair was recommended. While she was nervous to have the surgery, she felt confident in the hands of a female surgeon and mentor. Her advice to others who are put in this situation is to ask as many questions as possible to better prepare you for what is going to happen. "I will never take my legs for granted again, they impact so much of your life."
30% of patients with meniscal tears re-tear it during recovery. In order to avoid this fate, Jenci will have to be gentle and cautious when partaking in any pivoting activity. She has recently had her brace removed and will spend the next 6 months to a year further recovering her knee. Luckily her recovery process aligned well with her plans to spend the summer studying for boards.
Currently, Jenci is awaiting her board scores and preparing for her 3rd year orientation. The next year ahead holds many opportunities as Jenci looks forward to exploring the more hands on fields of internal medicine and surgery. All of us at the Orthopeadic Specialists wish her the best of luck!