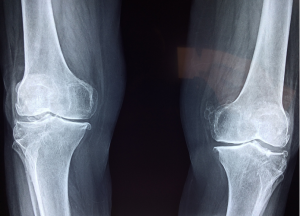 Knee replacement surgeries are common; in fact, over 800,000 are performed in the United States each year. What's more, they're usually extremely successful in the long-term; after 15 years, over 90% of replacement knees are still functioning. Knee replacement surgery can provide a significant reduction in pain and increase mobility for those suffering from arthritis and other knee conditions. 
That being said, your lifestyle choices can have a huge impact on the outcome of your surgery, such as how quickly you recover. The decisions you make before the procedure will affect your short-term recovery progress as well as the long-term possibility of needing a second knee replacement. That's why it's vital to be informed about what you can do for yourself in the months and weeks leading up to surgery. Follow along for some of my top tips concerning knee surgery preparation and recovery. 
Quit Smoking, Tobacco, and Nicotine Use
Smoking not only increases the risk of medical complications after knee surgery, but smokers are proven to be far more likely to need a second knee replacement surgery in the long-term.
A study recently published by the University of Missouri School of Medicine found that "patients with tobacco use had a nearly 10% increased rate of reoperation, a 10% increased rate of surgery within two years and a 3.2% higher rate of above-knee amputation when compared to the healthy patient population." 
The positive side of these statistics is just how quickly you may be able to change your outcome. Studies have found that quitting or reducing smoking just weeks prior to surgery can have a remarkable impact. According to the American Association of Hip and Knee Surgeons, if you quit smoking 4-6 weeks before surgery and continue for 4 weeks after, you can reduce your risk of complications by up to 50%! 
How does smoking harm the body, exactly? It is well known that toxins in nicotine weaken the immune system and escalate inflammation throughout the body. This, in turn, increases the risk of infection, harms the formation of scar tissue, and reduces body-wide oxygen supply. To learn more about the many effects as smoking as well as some ways you can receive help during cessation, visit this CDC page.  
Prepare Your Space
After surgery, you may have difficulty walking and moving around for several weeks. You won't be able to drive or perform many daily activities during this time. That's why it's important to prepare your home in the weeks prior to reduce undue stress on your mental and physical health as well as reduce the risk of re-injuring yourself. If you live somewhere with a lot of stairs, consider moving around your living area to stay on one level. Rearrange any tripping hazards, like toys, awkward furniture, or cluttered spaces. Communicate with your loved ones who will be providing care for you. Do you have meals covered? Who will provide transportation? How will your kids get to school? Answering all of these questions in advance is crucial. 
Start Strengthening Your Knee 
Strengthening your knee before surgery can have a weighty impact on the efficiency and length of your recovery. While you shouldn't do any exercise that exacerbates pain, there are many moves you can attempt. This excellent blog from Healthline outlines some exercises you can do while laying down. These include: thigh squeezes, side-lying straight leg raises, straight leg raises, clamshells, and more. Of course, before performing any exercises, consult with your doctor. Everyone's knee is different and should be approached with different levels of care. 
Prepare to Slow Down
If you are a consistently active person or athlete, such as a runner, swimmer, biker, or walker, it's important to prepare yourself for a reduction in mobility and activity levels in the weeks after surgery. Remind yourself that your sacrifices now will only enable you to be stronger than ever in the future. And remember: once you've reached a certain point in recovery, your doctor will actually recommend aerobic and cardio activities to rebuild strength and range of motion in your knee. That's why it's important to take that initial post-op rest time as seriously as possible. 
Lose Weight
For those suffering from obesity or morbid obesity, weight loss before surgery can be very impactful on quality of life, knee function, and mobility in the short-term and long-term. Eating plenty of fruits and vegetables, healthy protein sources, and foods rich in Calcium, Vitamin D, and Vitamin C can also improve bone health, immunity, and overall wellness.
Ask Questions
Don't be afraid to ask your surgeon or orthopaedic specialist questions prior to surgery. Sometimes people can be intimidated in a medical setting, or don't know what to ask. Be sure to cover all the bases: Is surgery my best or only option? How will this surgery impact my daily life? What does my recovery time look like? What risks are associated with the surgery? What can I do to recover as quickly and efficiently as I can? 
While knee replacement is absolutely the best decision for many people, I'm always an advocate for alternative options to surgery when possible. Read my blog about some ways you may be able to avoid a knee replacement here.
If you are experiencing knee pain, knee arthritis, or any orthopaedic injury, you can trust the professionals at Orthopaedic Specialists to help you recover. To schedule an appointment with Dr. Grossfeld and the experts at Orthopaedic Specialists, call 502-212-2663 today!