This month's patient of the month is Emily Freeman! Emily has been an elementary librarian for 17 years, and enjoys baking, knitting as well as the occasional craft. She is known around our office for always bringing in the most delicious baked goods!
Dr. Grossfeld has been treating Emily since she was 19 after a car accident gave her kneecap arthritis at an early age. As a result of the accident, Emily has undergone 16 surgeries (the last one being in 2016). Though initially her right knee was the only one directly affected by the car wreck, after years of compensation and overuse she essentially has no cartilage in either knee.
Buying Her Time
While Emily is not a runner or athletic person, she does enjoy themed 5ks and casual cycling (last year, Emily recently participated in a pumpkin 5K).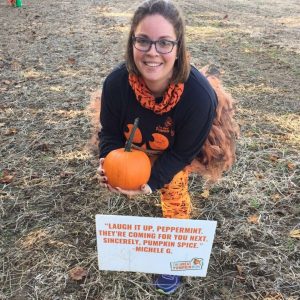 "I try to stay somewhat active as having strong muscles helps take the pressure off of my joints and allows me to buy what time I can. I have also learned that good quality, professionally fitted tennis shoes are key to remaining active. Don't try to save a buck and buy cheap shoes, or stretch them beyond their wear."
For Emily, a knee replacement is a last resort and PRP injections have allowed her to hold off on replacing both knees. While it takes a few weeks to fully take effect, Emily managed to get 1 year of relief out of her first injection. Not knowing what to expect, she has viewed this as a success considering they usually offer only 6 to 9 months of relief.
A Realistic Outlook
As a librarian she is on her knees a lot, visiting classrooms etc. and has learned her limits as well as to pay attention to her body's warning signs. "Stairs are not my friend," says Emily. "Before PRP injections, no matter what I was doing, I was stopping and thinking about it. I would make it through the school day and then spend the evening with my legs propped up. Now I don't think about it with every step and I build in rest time during more demanding time periods like the beginning of the school year."
Emily also takes an anti inflammatory, and is considering stem cell therapy in the future. She will likely revisit more surgeries as well to clean out any damage from the bone on bone impact.
As for Dr. Grossfled's outlook? "Emily Freeman is a wonderful person and I've watched her grow up. Her dedication to keeping her fitness level up and her health has allowed her to stay away from knee replacement surgery."